Hey all you Jack Russell Lovers out there.
I am a Jack Russell Puppy.
My name is Jake Rustle.
(My Daddy Thought up my Name Ain't it Cute)
I wanted to let everyone know about my family and the life I am living.

So my mom let me play on the computer and I made this site for all you dog lovers and anyone who happens to be surfing and lands on this site.

Let me tell you about my self.

I was born on July 24, 1998 to a Beautiful, full white Female J.R.(Pecan Grove Sadie) and a Handsome rough coat with orange spots Male J.R.(PickPocket Mikey) My Mom had 3 in the litter, 2 girls (my sisters) and 1 boy (me). This was at Lucky Four Kennels in Advance N.C. Mr. Jon Woodring was my first owner.

If you are interested in adopting a Jack Russell you can contact Mr. Woodring at
luckyfour@YadTel.Net

My Mommy had to wait 3 weeks for us to be born then another 7 weeks to bring me home. Boy she was anxious to get me, that's all I hear. "I couldn't wait to get you". Talk about impatient. But you gotta love her, she loves me.

So I left my first home and went to my new home to meet my new sister and see my Daddy.

You can e-mail me or any member of my family at the E-mail address below. I would love to hear from you.

Or Sign My Guest Book.

Talk to you soon, Jake Rustle Underhill

PLEASE SIGN, DON'T MAKE ME BEG
Sign My Guestbook

View My Guestbook
Click on The Trophy to go See My Awards.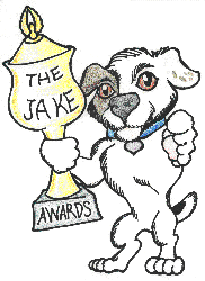 I am a member of "The Awards Cave" go there to find other cool awards!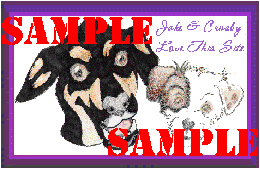 To apply for My Award Click on the Sample Award and fill out the Application.
Click Here to Go see Who Made it to
"The Winner's Circle"

Crosby is a mixed breed of Doberman,
German Shepherd, & Dalmatian.
Jake is a Jack Russell.
Even though both are different breeds,
they both loved to be babied and spoiled.
Can you blame them?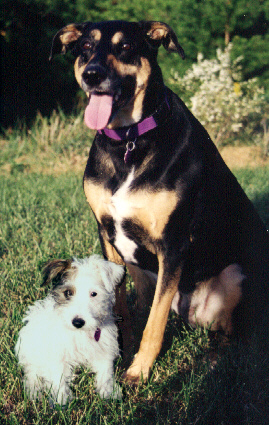 Check out my page on the Purina Dog Chow web Site.


Create your own page on the Purina Dog Chow web Site.
We were chosen "Cool Dog Site of the Day"
On January 15, 1999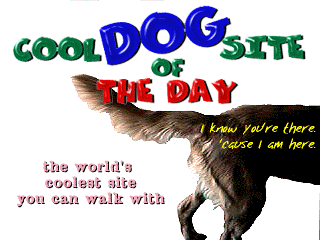 Go Chek us out!
You are Number


to view this page since
November, 1998
---
Copyright: Jake & Crosby's World
Last revised: March 14, 1999