Photos Cont.
**Click on the thumbnail to see the bigger photo**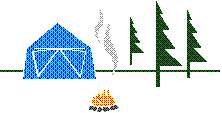 My First Camping Trip


All Tuckered OUT!


My Uncle Rufus, Cousin Garrett, Aunt Courtney, & Aunt Noreen


My Cousin Brittany Resting with me and Crosby


Me and my cousin Garrett

All Tuckered Out Again, Give me a Break.
I am a Puppy.


Mommy keeping me Warm.
Happy Halloween


Me in The Pumpkin Patch.


Me & Crosby in Our Halloween Costumes
I really wanted to be SuperMan,
but Mom couldn't find a Small enough Costume.
So Crosby was SuperMan & I was the Great Pumpkin
Next Year I hope I am big enough I can be SuperMan & Crosby can be BatMan


This my new Friend EarthQuake, He is the one with Short hair.


Here me and Quake are playing and having fun, Just what Puppies are supposed to do.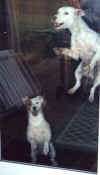 Theses are Quake's Brother and Sister. The one Jumping is His Brother Sunny,
The one not jumping is His sister Dew

---
Copyright: Jake & Crosby's World
Last revised: March 12, 1999