All Disney
Graphics Came
from Aaron and
His Disney
Collection.
Two Spoiled Rotten Dogs So now I am in my new home and talk about getting whatever you want, I do.

My parents are softies. They spoil me and my sister rotten.

We both get to ride in the car and get Happy meals at McDonald's, well I don't because I'm to little, but wait until I get old enough. I hope my Mommy and Daddy have enough money to buy a McDonald's for me, I think I could eat all the food.

We also get at least one to two new toys a week. I also get to play a lot. My mommy plays with me in the morning before she goes to work for about 2 hours then when she comes home we play for about 4 to 5 hours. Ain't life grand. Also I get to play with my Daddy and Sister while Mommy is at School.

She goes to Salem College, in Winston-Salem, NC. She is going to open her own Photo lab when she get her degree. That will be after Graduation, which is May 22, 1999.

Check out the photos below to see me at 3 weeks and my new family. I will add pictures of me growing up and more members of my family as they become available.
Photos
**Click on the thumbnail to see the bigger photo**


Jake at 3 weeks


These are my Cousins Sprinty & Roscoe P. Coltrane.
Sprinty is wearing the blue collar and Roscoe the black collar.


If you like my toys you can have some too.
Just get your Mom & Daddy to surf on over to
HAPPYDOGTOYS.com
and order you one, or a couple.


I just got my bath.
I don't like baths and getting clean.
But getting dirty is real fun.


AHH, Beanies, How Soft, How Furry, How relaxing......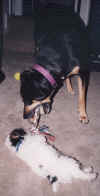 Me & My Sister, What a Lovely Pair.
1.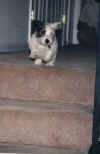 Ready
2.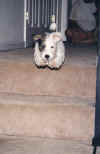 Set
3.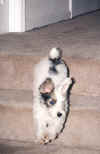 Go
SuperMan, who is SuperMan, Flying is not a Problem.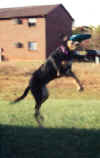 Crosby Loves Her Frisbee.
Wow! Look at her go!
---
Copyright: Jake & Crosby's World
Last revised: March 12, 1999