Photos Cont.
**Click on the thumbnail to see the bigger photo**
This is my Family Page



My Mommy Took These Pictures. Hope you Like.
This is My Uncle Max, He is my Mommy's Mommy's Doggie.
He was One year Old on Jan 2, 1999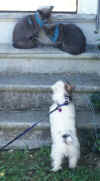 Theses are my cousins Roscoe & Sprinty, They are Scarredy Cats,
I wanted to play, they did not.
Party Poopers.
I Will add more as My mom Scans the Photos.
---
Copyright: Jake & Crosby's World
Last revised: March 12, 1999